71st Symposium on Macromolecules  
September 5 -7, 2022
Sapporo Campus,
Hokkaido University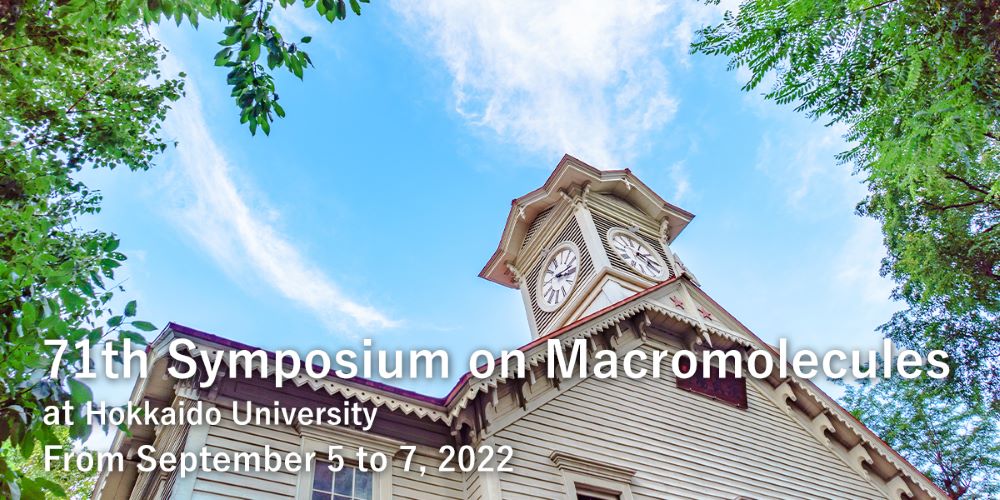 71st Symposium on Macromolecules  
 This year, we are planning the Symposium on Macromolecules,SPSJ at Hokkaido University, for 3 days. September 5-7th, 2022. Annually, the researcher and the engineer of the polymer science, presents the latest research developments. And also, the policy of holding is offering the place where can be communicate mutually and closely.
Oral Presentation
Term : 12:45 September 5, - 17:55 September 7
1st day 12:45〜18:20・2nd day 9:10〜17:30・3rd day 9:10〜17:55
Poster Presentation
Term : 12:50 September 5, - 16:50 September 7
1st day 12:50〜16:50・2nd day 9:50〜16:50・3rd day 9:50〜16:50
Infection control for COVID-19
In order to help prevent the spread of the novel coronavirus
・Remarks for preventing COVID-19 inflection.
・Hand washing and cough etiquette, wearing a mask.
・Maintain social distancing.
・If you are not feeling well, do not attend symposium.
・Cancellation of cloakroom.

Events on the day -coming soon-
Banquet⇒Social Gathering(without food & drink)
Time: 6:30 - 8:00 PM.⇒5:40 - 6:25 PM.
Date: Tuesday, September 6, 2022
Place: May opening to the public
Price: ¥8,000-
    &nbsp⇒free
Please apply with a registration application.
JAPAN-KOREA Joint Session
Time: 2:10 - 5:30 PM.
Date: Tuesday, September 5, 2022
Place: Room ESA
Program: Click here to view.
Committee
Chair
 Kazuki SADA(Hokkaido Univ.)
Vice Chair
 Toshifumi SATOH(Hokkaido Univ.)
Members
Kuniharu IJIRO(Hokkaido Univ.)
Satoshi UMEDA(Natl. Inst. of Tech., Asahikawa Col.)
Yasumitsu URAKI(Hokkaido Univ.)
Kento OKOSHI(Chitose Inst. of Sci. & Tech.)
Olaf KARTHAUS(Chitose Inst. of Sci. & Tech.)
Hiromi KIMURA-SUDA(Chitose Inst. of Sci. & Tech.)
Takayuki KUROKAWA(Hokkaido Univ.)
Jian Ping GONG(Hokkaido Univ.)
Hiroyuki KONO(Natl. Inst. of Tech., Tomakomai Col.)
Kenta KOKADO(Toyota Technological Inst.)
Katsuaki KONISHI(Hokkaido Univ.)
Shuichiro SENO(Hokkaido Res. Organization)
Norihisa TANIO(Chitose Inst. of Sci. & Tech.)
Tamaki NAKANO(Hokkaido Univ.)
Hideyuki NAKANO(Muroran Inst. of Tech.)
Takashi NISHINO(Kobe Univ.)
Shin-ichiro NISHIMURA(Hokkaido Univ.)
Yasuchika HASEGAWA(Hokkaido Univ.)
Hiroshi HINOU(Hokkaido Univ.)
Kazunori MATSUURA(Tottori Univ.)
Kenji MONDE(Hokkaido Univ.)
Shinji WATANABE(Kitami Inst. of Tech.)


Preprints date of issue
 August 17, 2022 Preprints will be published.